Royal College of Dental Surgeons of Ontario (RCDSO) Excess Malpractice Liability Program

Jones DesLauriers is pleased to be the broker for the RCDSO and the
Administrator of the RCDSO Excess Malpractice Liability Program
Working closely with the Professional Liability Program, Jones DesLauriers offers RCDSO members excess malpractice protection above the primacy policy amount of $2 million included with the College's annual fees. Excess limits available under the Program range from an additional $1 million to an extra $23 million, for a maximum of $25 million.
PURCHASING FOR THE FIRST TIME WITH JDIMI:
Please ensure to choose January 1, 2023 as the effective date.  See this example: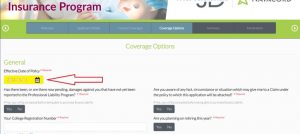 RENEWALS
If you previously purchased excess limits through JDIMI, for your security, a dedicated link has been emailed to you directly by JDIMI. Please check your "Junk Mail" or "Spam" folder.
If you have not received your secure, dedicated link, please contact JDIMI at excessprotection@jdimi.com and they will re-send it to you.
If you have any questions, please contact JDIMI at excessprotection@jdimi.com or by phone: 416.248.7144 or 1.877.301.4979.